Yoga
---
Balance of Body + Mind + Soul through still or moving meditation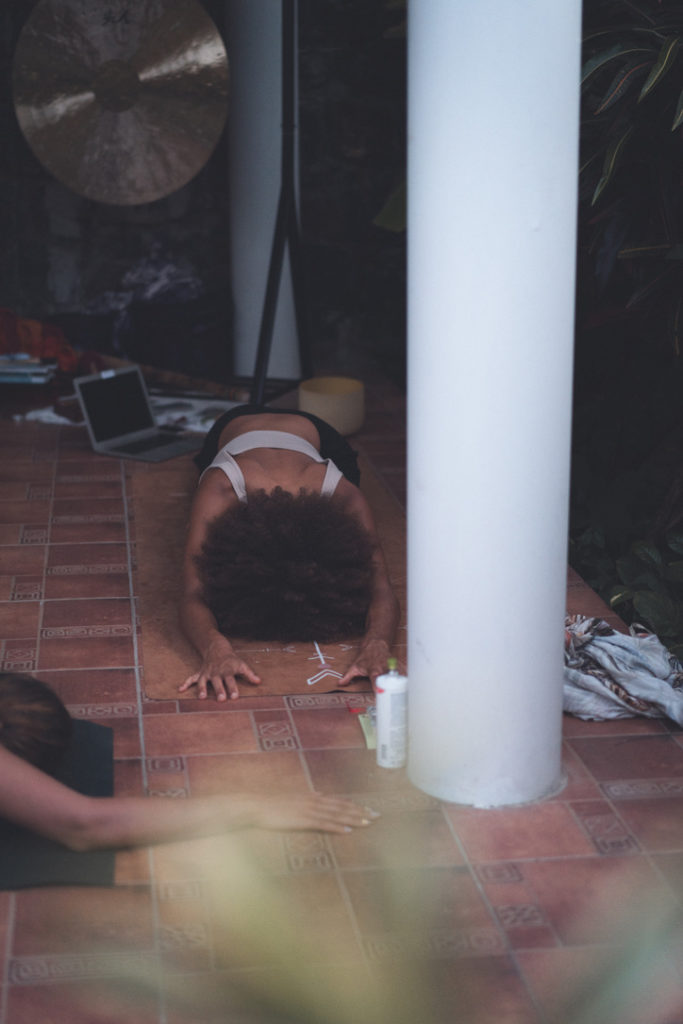 Koza Yoga honours the practice of yoga as a dynamic meditation. All the classes combine:
postures: asanas
breathing practice: pranayama
awareness of introspection: pratyahara
one-pointedeness of mind: dharana
meditation: dhyana
to smoothy and gently bring you to a state of harmony and bliss: samadhi.
This combination is aimed at nurturing a durable body, mind and soul connection through awareness and mindfulness to bring strength, flexibility and steadiness in your whole being. After each class, you will feel in a relaxed, centered and energized state of being.
PRIVATE SESSION: contact Floriann at 0696 10 66 29
GROUP SESSIONS: Anse Figuier, Rivière Pilote, 15 € / pers / 60 minutes
Tuesday Sun Ra 5pm
Friday Lalin Yin 7am & 5pm
Booking required maximum 24 hours before the start of the session via the calendar below.
Mandatory payment maximum 24 hours before the start of the session via the Lydia link below: https://lydia-app.com/collect/74483-seances-collectives-yoga/mq
Reservations cancellations are not refunded. However, we offer you the possibility of rescheduling your reservation at no cost by sending us your request by email to info@koza-yoga.com within a period and at the latest 24 hours before the start of the session initially reserved.
Without receipt of your payment within 24 hours before the start of the session, we will lift your reservation by canceling it.
Contact Floriann for any request on 0696 10 66 29
Book a Yoga session
Class styles
From the more passive to the more dynamic
---
Lalin Yin
softness + relaxation + passive
Passive practice exploring postures on the ground, maintained for 3 to 5 minutes and which can be adapted to each one using props. Yin Yoga targets the relaxation and flexibility of deep connective tissues, which allows the opening of the body and the relaxation of the mind.
---
Aerial Yoga
decompression + alignment + flexibility + strengthening
Supported by the hammock, this practice is both active and passive. You will explore floor and standing postures with the hammock for support. You will experience gravity and letting go fro the passive part. On the other hand, you will strengthen and soften your entire body while working on your alignments and your range of motion to improve mobility.
---
Lalin Restorative
calm + nourishing + serenity
Slow-paced classes nourishing restoration and relaxation in both mind and body. The positions, on the ground, are held for several breath, improving muscle flexibility, joint mobility and energy flow in your bodies.
---
Sun Ra
grounding + challenge + mindfulness
Energetic classes starting with a warm-up on the floor, followed by a challenging standing flow and finishing with a cool-down and a final relaxation on the floor. Hatha Yoga harmonizes and balances opposing forces, such as female/male energy; sympathetic nervous system/parasympathetic nervous system, to create purity and a physical and mental balance.
---
Vinyasa
explorative + mouvement + dynamism
Powerful classes based on a creative flow of postures sequences, synchronizing the movement of the body with the flow of the breath. This synchronisation is initiated by the lifting, lengthening and opening of every inhale and completing through the experience of stabilizing and grounding with every exhalation. Yoga experience is required to have a good understanding of general yoga postures.
---
TARGETED CLASSES
Pre Natal Yoga
transformative + empower + harmony
Pregnancy is a total experience. It is a time in a woman's life when it is of prime importance that the dimensions of her being are in harmony in order to welcome a new soul to the world. Through the practice of yoga, mum in becoming will embrace the experience of pregnancy, creating optimum health and awareness in her whole being.
Koza Yoga will support and empower pregnant women and their partners on this transformative journey to parenthood through a specific class tailored for their needs.
---
Post Natal Yoga
gentle + restore + rebalance
Post natal yoga is a beautiful way to restore the body's natural balance and promote wellbeing to allow new mum to enjoy the wonderful experience of motherhood.
Gentle yoga classes with core stability, general strength and stability, releasing postures, breastfeeding counterposes, working internaly to rebalance the body's internal system after the demande of pregnancy, will be the main focus for this specific class tailored for new mum.
---
Kids Yoga
coordination + confidence + self-esteem
Children live in an increasingly fast-paced, highly stimulating and often stressful world. The inherent pressures of children's lives can have a profound effect on their innate sense of joy and ease. Koza Yoga's Kids Yoga classes will promote their physical, spiritual and emotional wellbeing fostering their body+mind+soul awareness, coordination, confidence and self-esteem.
Our little being will express themself and grow in an non-competitive activity adapted for their needs.
---
Teens Yoga
managing + blooming + gracefulness
Koza Yoga's Teens Yoga classes explore the unique needs of teenagers as they blossom into young adults. Our teaching will provide them with beneficial lifelong tools to manage their multiple changes – body, hormones, dealing with a social group, independence…
We will assist and prepare them cope with daily stresses and deal gracefully with the increasing responsibility and pressures placed upon them as they transition to adulthood.
---
Contact us for any enquiries at +596 696 10 66 29